DMV Student Engagement Drive In – Summer 2019 at Georgetown University
Posted in Uncategorized
Welcome
 
The Student Activities & Organizations office within the Center for Student Engagement at Georgetown University is excited to host you for summer "drive in" meeting for colleges and universities in the DC/Maryland/Virginia area. The purpose of this Drive-In Event is to bring together practitioners in similar areas to generate and co-create best practices related to our work, to share information and resources, and to provide opportunities for networking and community within our DMV region. This program is geared towards those who advise or train student organizations, coordinate and assess engagement programs (mentorship, leadership, training) and develop leadership curriculum. Lunch will be provided. 
The event is scheduled for Wednesday, July 24, 2019 from 9:30am to 4:30pm (a tentative schedule is included below and will continue to be updated leading up to the institute) in the Healey Family Student Center (HFSC) located on Georgetown's main campus. Read below for more information on parking and transportation.
For more information on how to register, please contact getinvolved@georgetown.edu
About Us
 
Located in a historic neighborhood in the nation's capital, Georgetown offers rigorous academic programs, a global perspective, exciting ways to take advantage of Washington, D.C., and a commitment to social justice. Our community is a tight knit group of remarkable individuals interested in intellectual inquiry and making a difference in the world. 
Georgetown University's Center for Student Engagement is situated within the Division of Student Affairs led by Dr. Todd Olson and supported by Dr. Erika Cohen Derr, the Assistant Vice President for Student Affairs. The Center for Student Engagement (CSE) is committed to providing learning and development opportunities, which complement our Jesuit identity and students' educational experiences. We empower and partner with students to create a vibrant and pluralistic campus community through: leadership opportunities that foster integrity and collaboration; high quality programs that spark curiosity and inspire action; and reflective practice that deepens self-knowledge and awareness. The CSE encompasses the offices of Orientation, Transition, and Family Engagement, Outdoor Education, Student Activities & Organizations, and Policy Debate. 
The Student Activities & Organizations unit is responsible for the management, advising, and training of a majority of Georgetown University's registered undergraduate student organizations, and has recently re-organized to include leadership development as a primary focus of our Center's mission delivery.  
Schedule
 
9:10 AM:    Check in begins at the Healey Family Student Center
9:30 AM:    Welcome & Introductions
Morning:    Roundtable Sessions (50 minutes)
12:30 PM:   Lunch catered by Panera
Afternoon: Fireside Chats (30 minutes)
    Supporting Undocumented Students
4:30 PM :   Networking Happy Hour at Epicurean & Co. (Optional)
Parking & Transportation
Visitor Parking – We will cover the parking costs for our visitors, but you must let us know in advance if you will be driving in. Please email Ali Stowe at ali.stowe@georgetown.edu by Tuesday, July 23rd, with the driver name and make/model/color of car.
Address to type into your GPS: Park in the Southwest Parking Garage. Use 3611 Canal Road as the address for directions using GPS. This is the garage for university visitors.
Directions to the HFSC from the Southwest Parking Garage: After exiting the Southwest Quad Garage, follow either Liberty Walk or North Road towards Tondorf Road. The Healy Family Student Center will be on the right at the intersections of Tondorf and Liberty.
Public Transportation
The G2 bus stops at the university main gates at 3700 O St NW and connects to the Dupont Circle metro station (Red Line). Click here for the schedule and route map for the G2 bus.
Metrorail - While there is not a Metrorail station in Georgetown, the free university GUTS shuttles connect Georgetown University with the Dupont Circle metro station (Red Line) via the Dupont Circle route and the Rosslyn metro station (Blue, Orange, and Silver Lines) via the Rosslyn route. The GUTS shuttles drop off at the Bus Turnaround, in front of McDonough Arena.

Directions from Dupont Metro to the GUTS Bus: Follow signs for the North Exit, to 20th St NW and turn left towards Massachusetts Ave. The GUTS Bus stops on the corner of 20th St NW and Massachusetts Ave.

Directions from Bus Turnaround to the HFSC: From the bus turnaround walk straight down Liberty Walk, across Tondorf Road, and the HFSC will be on your right.

​
Rideshare – Passenger vehicle traffic is very limited on campus.
When taking a taxi or other ridesharing service to Georgetown University, the best destination is 37th & O Street, NW. This will lead the car to the Front Gates.

Directions from front gates to HFSC: 

From the front gates, cross Healy Lawn going left towards Lauinger Library. Proceed straight down Liberty Walk and the HFSC will be on your left just before the intersection with Tondorf.
​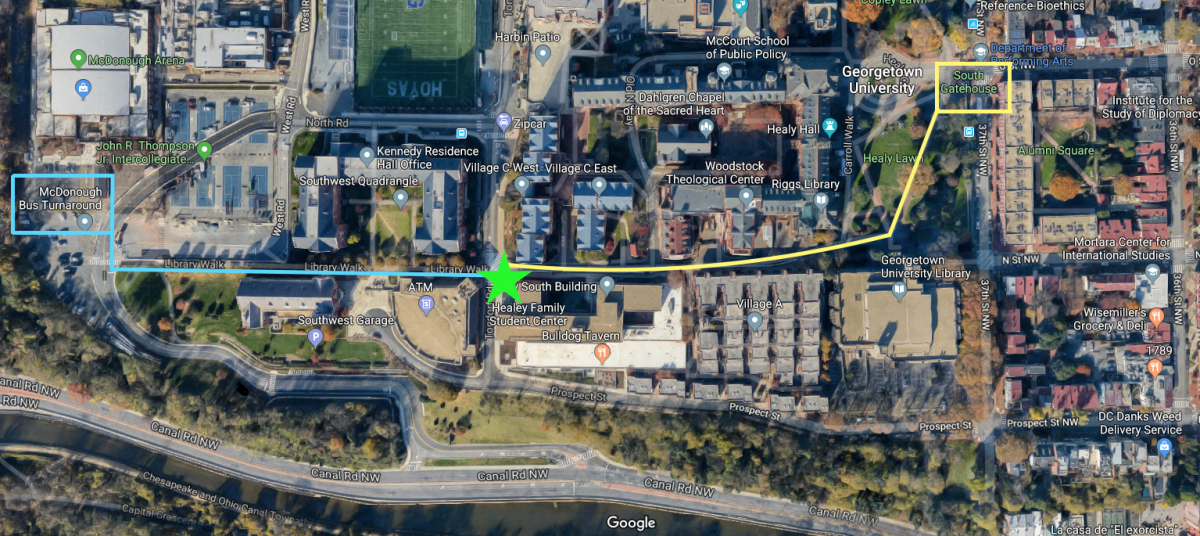 Dress
 
It is our hope that this is a restorative gathering for everyone so we encourage you to dress both casually and comfortably. Lunch and amenities will be provided for you; however, we ask that you bring a reusable water bottle to cut down on plastic consumption. Additionally, sometimes the AC can blast during summer months, so please dress accordingly/with layers if you are sensitive to the cold!
Please do bring your institutional nametag and a laptop to reference or share materials during discussion.
We also ask that you bring your own reusable water bottle. We will be pointing out the nearby water refill station in the HFSC to use throughout the day at your convenience.
Questions
 
Please contact Ali Stowe, Associate Director for Student Engagement at ali.stowe@georgetown.edu
For any questions on the day of, you can call our office line at 202-687-3704.