GOLD (L&B)
Georgetown Opportunities for Leadership Development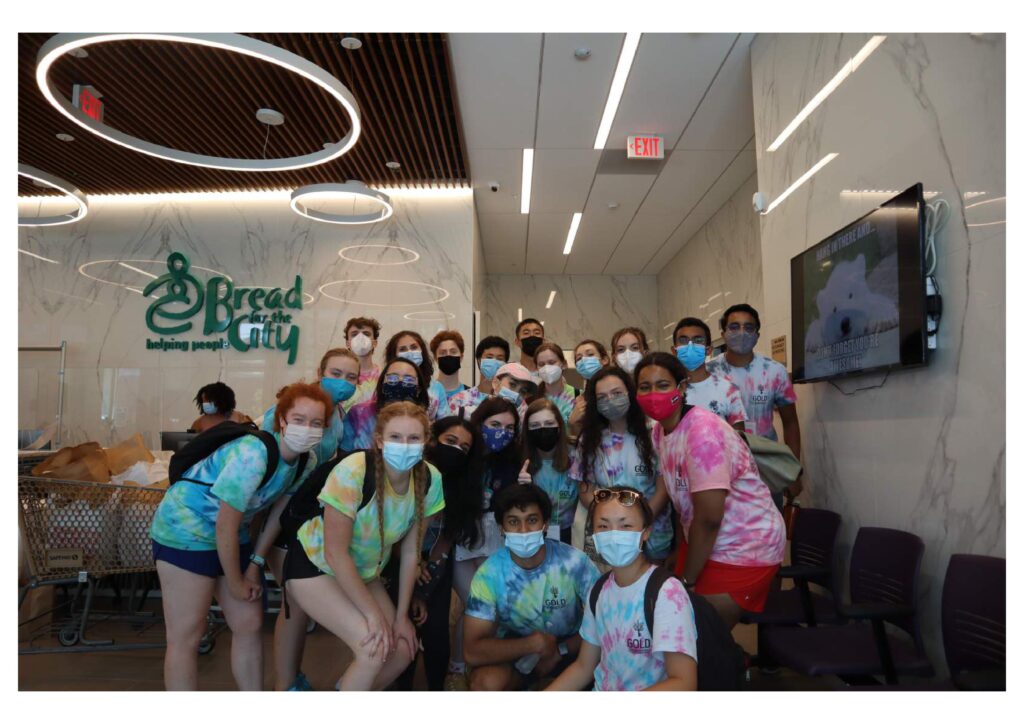 Our Mission
GOLD fosters a community in which new and current Hoyas explore leadership and gain skills used to effect positive social change in their communities.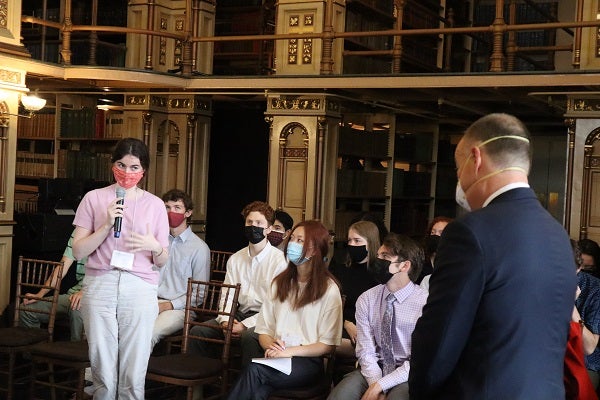 Our Definition of Leadership
Leadership is a process of committed action that aims to accomplish defined goals through service to others. It encourages individuals to work together as a team through the creation of a shared vision and plan of action.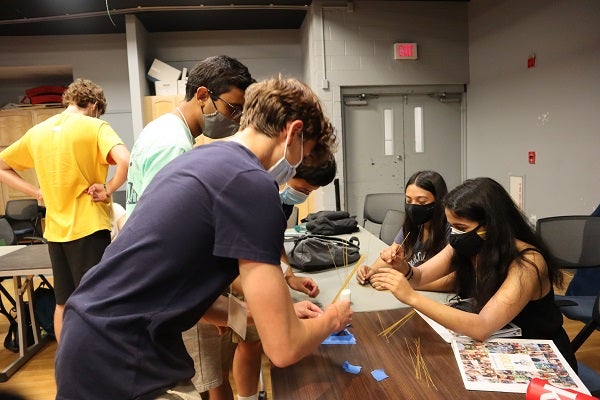 Our Programs
Leadership and Beyond (L&B) Pre-Orientation Program
L&B provides a space for New Hoyas to explore leadership and community while creating lasting connections.
L&B is a student-led mentorship program that introduces new Hoyas to the Hilltop each fall, through the lens of leadership. The program focuses on the ways in which leadership can be viewed and practiced here at Georgetown and after one's college experience. Students will explore leadership through a variety of activities that are rooted in the Social Change Model of Leadership. Along with trained upper-class mentors, Georgetown faculty, staff and community members shape the student experience in a variety of ways during the program. Whether it's a campus tour, conversation, leading a service project, story share, or session dedicated to leadership, they are committed to the success of new Hoyas.
Participants are paired with undergraduate mentors and in their small "families," students have ample opportunities to interact with their mentors, exchange ideas, and form close bonds with each other. These families meet frequently during the semester for dinners, campus events and "Beyonds". The "beyond" component of L&B works to further the development of students as leaders during the school year. They include opportunities such as speakers, panels, workshops, community service, and social opportunities.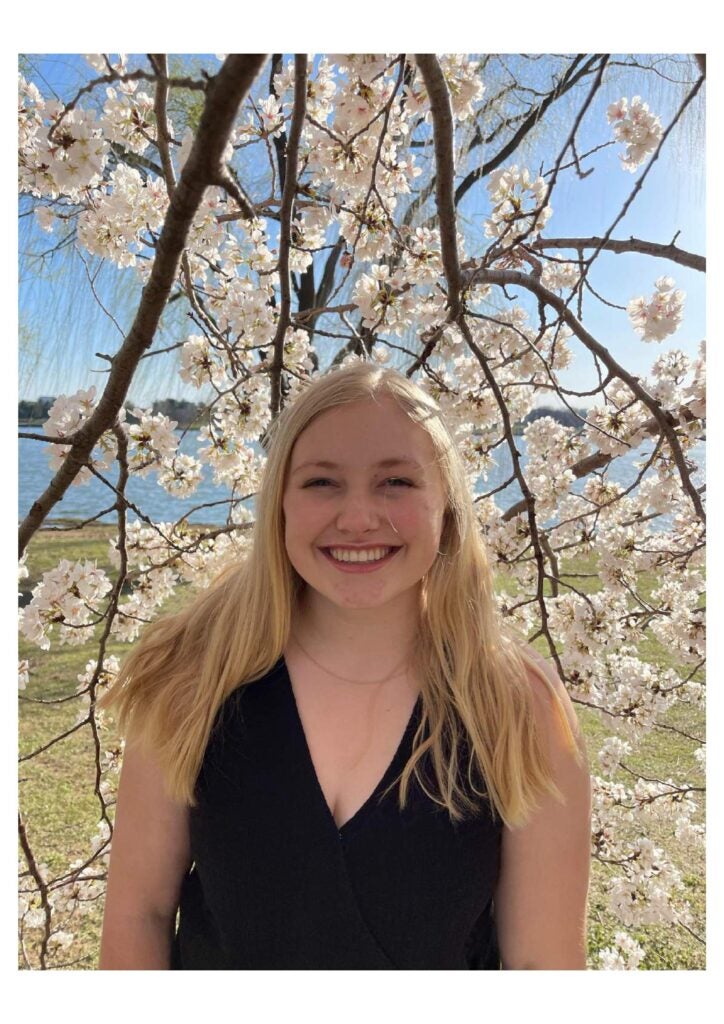 2023 L&B Mentor: Kate Huckaby
"Participating in L&B gave me a supportive and welcoming community at the very beginning of my time at Georgetown. I loved every minute of the program and it was the perfect way to start my first year on the Hilltop. I am so excited for L&B this year and to be able to share the GOLD community with new participants. I can't wait to meet everyone!"
Learn more about our mentors on our Instagram
Information about Fall 2023 L&B
Pre-Orientation Programs are currently scheduled to take place on August 13-18, 2023. Pre-Orientation Programs are available to new first-year students and new transfer students starting their first semester at Georgetown in August 2023.  Applications will close on June 11, 2023, at 11:59 pm Eastern Time. Applications submitted after this time will not be considered.
There is no cost for attending any of our programs, and housing is provided during L&B.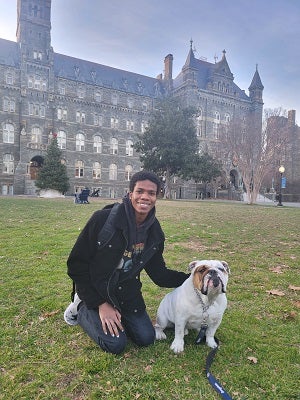 2023 Development Chair: Ajani Jones
"I think participating in GOLD was one of the best choices I made coming into Georgetown. The program really helped me put into perspective (and gave me a great foundation for) the kind of leader I want to be in the future within a really welcoming, and open space that made those first few weeks transitioning into college a bit easier to manage. I am so grateful for the genuinely loving and caring community I have found through L&B and I cannot wait to help foster that same kind of welcoming space for participants this year. I'm really looking forward to meeting you all!"
Emerging Leaders Program (ELP)
Applications Coming Soon. ELP is a student-led leadership program focused on social change and community impact for first-year students.
At the end of the program, students will have developed their own philosophy of leadership that they can use as a guide, along with skills they can put into practice as they participate in Georgetown's many campus organizations. They learn to participate in experiences that teach them a variety of skills such as reflection, negotiation, how to run a meeting, or how to leverage the strengths of their teammates.
Past ELP Participants have gone on to be a part of the Georgetown Program Board, Georgetown University Student Association (GUSA), Blue and Gray Tour Guide Society, International Relations Club, The Hoya, campus advisory boards, Georgetown Weeks of Welcome, our own GOLD Leadership Team, and many more organizations! Participants in ELP also have access to our extensive alumni network of students and graduates that reaches back to 1999.
Hear what alumni of ELP have to say about the program
How to Join ELP
More information on how to join ELP for the Fall 2023 semester will be available soon.
We encourage all students to apply, regardless of perceived leadership experiences.
GOLD invites you to be inspired by the people you will meet, get involved in our tight-knit community and stay engaged with what you love. All programs are supported through the Center for Student Engagement under the Division of Student Affairs.
Questions?
Email the GOLD Leaders at GOLD@georgetown.edu
Connect with Us