GOLD
Georgetown Opportunities for Leadership Development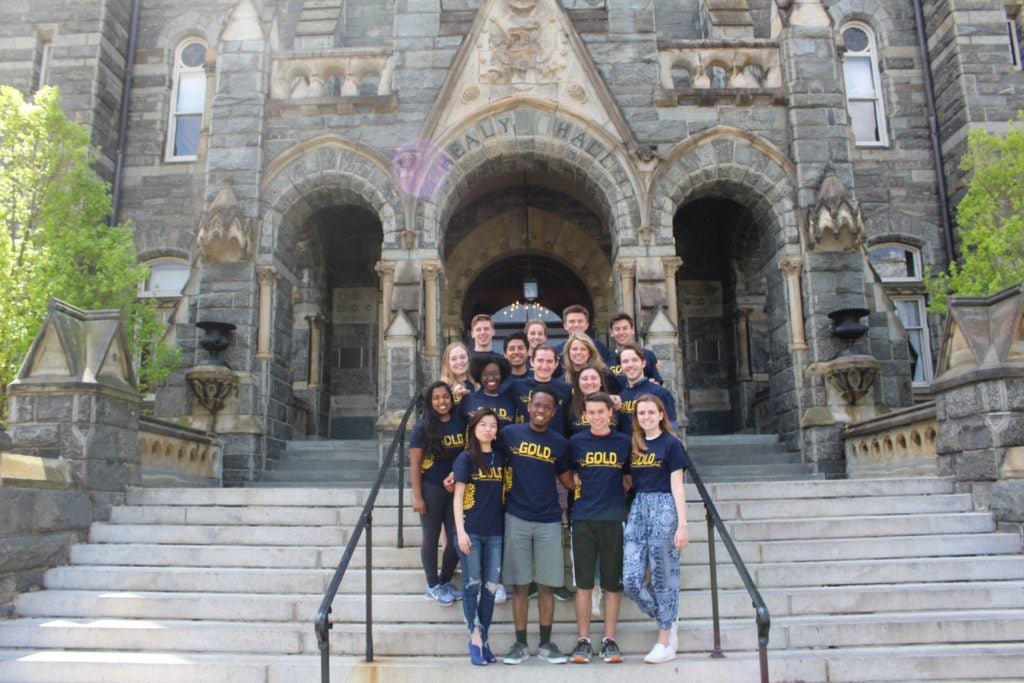 Our Mission
GOLD fosters a community in which new and current Hoyas explore leadership and gain skills used to effect positive social change in their communities.
Our Vision
To cultivate conscious leaders
Our Definition of Leadership
Leadership is a process of committed action that aims to accomplish defined goals through service to others. It encourages individuals to work together as a team through the creation of a shared vision and plan of action.
Our Programs
Leadership and Beyond (L&B) Pre-Orientation Program
L&B provides a space for New Hoyas to explore leadership and community while creating lasting connections.
L&B is a student-led mentorship program that introduces new Hoyas to the Hilltop each fall, through the lens of leadership. The program focuses on the ways in which leadership can be viewed and practiced here at Georgetown and after one's college experience. Students will explore leadership through a variety of activities that are rooted in the Social Change Model of Leadership. Along with trained upper-class mentors, Georgetown faculty, staff and community members shape the student experience in a variety of ways during the program. Whether it's a campus tour, conversation, leading a service project, story share, or session dedicated to leadership, they are committed to the success of new Hoyas.
Participants are paired with undergraduate mentors and in their small "families," students have ample opportunities to interact with their mentors, exchange ideas, and form close bonds with each other. These families meet frequently during the semester for dinners, campus events and "Beyonds". The "beyond" component of L&B works to further the development of students as leaders during the school year. They include opportunities such as speakers, panels, workshops, community service, and social opportunities.
We encourage all students to apply, regardless of perceived leadership experiences.
Hear what alumni of L&B have to say about the program:
How to Join L&B
Incoming first-year students: You will receive pre-orientation information after May 1, 2020 from Georgetown University. To apply, visit Georgetown's Pre-Orientation page and select L&B on your application.
Emerging Leaders Program (ELP) Fall Semester Program
This year ELP is a student led leadership program which focuses on feminist theories of leadership and women's leadership.  All women and femme-identifying participants are invited to apply to this program that occurs during the Fall 2020 semester. A note for applicants also considering GOLD's Leadership and Beyond (L&B) Pre-Orientation Program: applicants applying to L&B but not admitted are invited to apply for ELP, however please note that if you are admitted for L&B you cannot also participate in ELP.
At the end of the program, students will have developed their own philosophy of leadership that they can use as a guide, along with skills they can put into practice as they participate in Georgetown's many campus organizations. They learn to participate in experiences that teach them a variety of skills such as reflection, negotiation, how to run a meeting or how to leverage the strengths of their teammates. Each year the focus is different.
Past ELP Participants have gone on to be a part of the Georgetown Program Board, Georgetown University Student Association (GUSA), Blue and Gray Tour Guide Society, International Relations Club, The Hoya, campus advisory boards, Georgetown Weeks of Welcome, our own GOLD Leadership Team, and many more organizations! Participants in ELP also have access to our extensive alumni network of students and graduates that reaches back to 1999.
Hear what alumni of ELP have to say about the program
How to Join ELP
Application details and dates for Fall 2020 coming soon.
Program Dates for 2020-2021
Fall 2020 Dates
CAB Fair Date TBD
Open House Date TBD
Learning to Lead Day Date TBD
Alumni Breakfast Date TBD
Halloween Party Date TBD
Holiday Party Date TBD
Spring 2021 Dates
The Summit Dates TBD
Leadership Week Dates TBD
Dinner series Dates TBD
There is no cost for attending any of our programs, and housing is provided during L&B.
GOLD invites you to be inspired by the people you will meet, get involved in our tight knit community and stay engaged with what you love. All programs are supported through the Center for Student Engagement under the Division of Student Affairs.
Questions?
Email the GOLD Leaders at GOLD@georgetown.edu
Connect with Us