Club Ultimate Frisbee (Women's)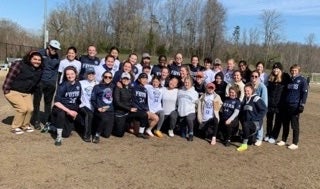 Club Ultimate Frisbee (Women's)
About Us
We have two teams, an A team (Huckin' Foyas) – which is more competitive and requires more commitment – and a developmental B team (Biddin' Foyas). We practice year-round, but the main competitive season is during the Spring semester when both teams play in tournaments around the region.
How to Join
We do not hold tryouts for club membership–beginners are welcome! Tryouts to join the A team are optional and take place in October.
If you are interested in joining, please contact us using the email below to sign up and be added to our Mailing List. You can also find us at the CAB fair near the other club sports teams.
Time Commitment
Huckin' Foyas practices three times a week, while Biddin' Foyas practices twice a week. In the Fall, we host a one-day fundraiser tournament and attend 1-2 other one-day tournaments. In the Spring, Huckin' Foyas attends 4-5 weekend-long tournaments, and Biddin' Foyas attends 3.
Dues
Dues are $25 per semester per person, which covers tournament fees, transportation, lodging, and team equipment. Dues assistance is also available, which can cover up to 100% of the cost.
Awards, Recognition, and Championships
Huckin' Foyas: Colonial Conference Champions, 2022
Biddin' Foyas: Atlantic Coast Regional Champions, 2019
Both teams consistently qualify for and perform well at regional tournaments.
Contact Us
Email us at womensultimatefrisbee@georgetown.edu
Follow Huckin' Foyas us on Instagram and Twitter | Follow Biddin' Foyas on Instagram and Twitter