Club Triathlon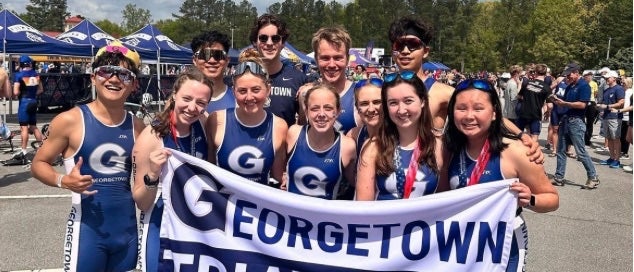 About Us
The Georgetown University Triathlon Team was founded in the Fall of 2005 and began competitively racing in the Spring of 2006. The Team currently consists of more than 40 student-athletes, who train regularly every week throughout the school year both as a team and individually. We compete at both the regional and national level and we compete in both the fall and spring.
How to Join
We do not hold tryouts for club membership. If anyone is interested in joining, please contact us to be added to our mailing list. Then show up consistently to practices.
Time Commitment
Practices are not required but they are highly encouraged to foster team bonding. There is no time commitment required for this club, you participate at your leisure.
Dues
Dues are $45 per semester per person, which covers entry fees, transportation, lodging, and social events.
Awards, Recognition, and Championships
Our members come in around the top for conference races held in the region.
Contact Us
Email us at triathlon@georgetown.edu
Follow us on Instagram