Club Squash (Men's)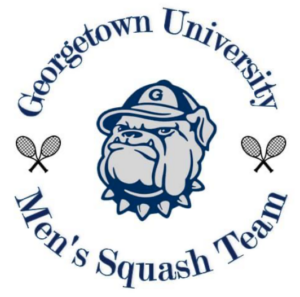 About Us
Georgetown University Men's Club Squash is the official men's squash team at Georgetown. We represent Georgetown University in the College Squash Association and compete against other club and varsity programs.
How to Join
We hold tryout sessions during the first few weeks of the Fall semester. To attend a tryout session, you will need to sign up at our booth at the Council of Advisory Boards (CAB) Fair. Tryouts are open to everyone; club executive members will observe players and collectively make determinations about who is accepted into the club.
Time Commitment
We practice and compete at Squash On Fire, located in the West End neighborhood of Washington, D.C.
Dues
Dues will be starting at $375 per semester per person, which covers transportation, lodging, entry fees, and equipment.
Awards, Recognition, and Championships
2022 National Collegiate Club Champions
2023 National Collegiate Club Championships: 2nd Place
Contact Us
Email us at mensclubsquash@georgetown.edu
Like us on Facebook, and follow us on Instagram