Club Rugby (Women's)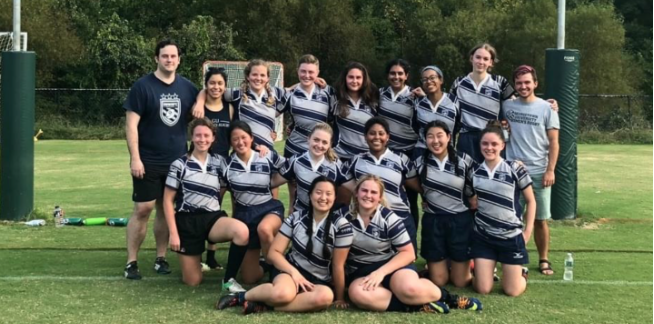 About Us
Georgetown University Women's Rugby Club was founded in 2000 and has since won PRU championships 4 times, made it to the Mid-Atlantic Rugby Football Union tournament 3 times, and played in the Sweet 16s at Nationals. GUWRFC welcomes players both old and new to the sport!
How to Join
Anyone is welcome to join the club. Individuals are welcomed with open arms at practice and can attend all of our social events. We practice inclusivity and love to see new faces out on the pitch to teach about the sport.
Please fill out the Player Interest Form to stay connected.
Time Commitment
Practices are two times per week for two hours each on campus. Practice is highly recommended to improve our team's chemistry and to grow as a team to compete at a high level.
Dues
Dues are approximately $40 per semester per person, which covers transportation, lodging, referee fees, insurance, and equipment.
Awards, Recognition, and Championships
Received a qualifying bid to play at Nationals after only one season with the National Collegiate Rugby (NCR).
Contact Us
Email us at womensrugbyclub@georgetown.edu
Like us on Facebook, and follow us on Instagram