Club Polo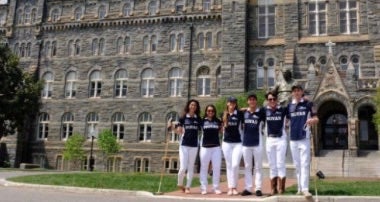 About Us
Georgetown Polo Club assists students in learning and refining the basic skills of Horse Polo so that riders can compete at a local, regional, and national level. Intra-club games are scheduled to provide experience for novice members.
How to Join
The following process will be used for individuals wishing to join our club:
You will be provided an Interest Form to fill out and submit to a club executive member.
A Membership Application will also be needed for further consideration.
After review, we will conduct a Formal Interview to learn more about yourself and your experiences.
If selected, a Skills Showcasing will also be conducted in various training sessions.
Final Approval for club membership after careful evaluation by the club coach and select club executive members.
To begin the process, you will need to sign up at our booth at the Council of Advisory Boards (CAB) Fair.
Time Commitment
We practice at the Congressional Polo Club weekly. Every practice is mandatory and highly recommended if you want to play and compete. We also hold on-campus training sessions.
Dues
Dues will be broken down into the following structure:
Competing Members: $500 per semester per person
Non-Competing Members: $300 per semester per person
Awards, Recognition, and Championships
Nationals Preliminary Matches (Fall 2022)
Nationals Knockout Matches (Spring 2023)
2023 Argentina Tournament (Georgetown, Cornell, Harvard, Yale, UVA, and others)
Contact Us
Email us at clubpolo@georgetown.edu
Like us on Facebook