Club Lacrosse (Men's)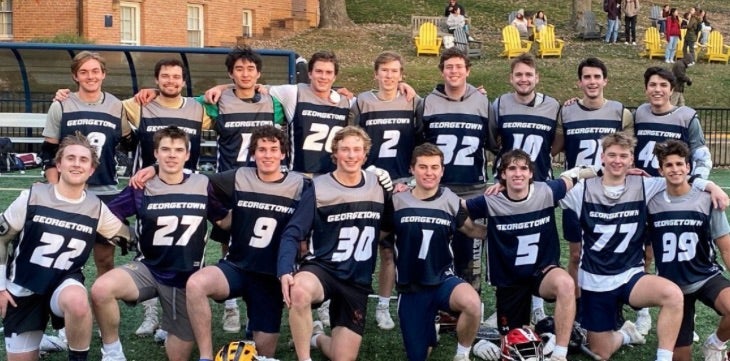 About Us
The Georgetown University Men's Lacrosse Club was founded in 1991 to provide undergraduate men with an opportunity to continue playing lacrosse in college, without the demands of a varsity program. We compete in the Division II of the National College Lacrosse League (NCLL) Chesapeake Conference.
How to Join
We do not hold tryouts for club membership. If you are interested in joining, please contact us to be added to our mailing list. Then show up to our practices.
Time Commitment
Practices are two times per week for two hours each on campus. Practice is not required, but highly recommended to improve our team's chemistry and to grow as a team to compete at a high level.
Dues
Dues will be starting at $25 per semester per person, which covers transportation, lodging, referee fees, and equipment (Pricing subject to change).
Awards, Recognition, and Championships
2022 Record: 12-6
2022 Chesapeake Conference Champions
2022 NCLL Final Four
Contact Us
Email us at menslacrosseclub@georgetown.edu
Follow us on Instagram