Club Ice Hockey (Women's)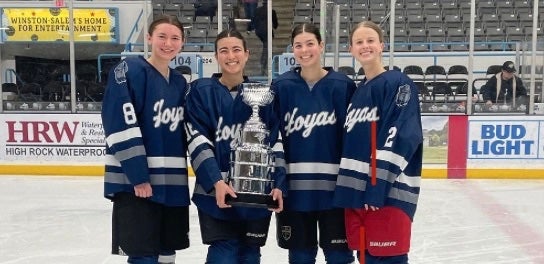 Club Ice Hockey (Women's)
About Us
Georgetown Women's Club Ice Hockey is a competitive ice hockey team that plays in the Women's Division-Atlantic Coast Collegiate Hockey League (WACCHL). Some schools that play in the division are UVA, GW, VT, and NC State.
How to Join
We do not hold tryouts for club membership. If anyone is interested in joining, please contact us to be added to our mailing list. Then show up consistently to practices.
Please fill out the Player Recruitment Form on our website to stay connected.
Time Commitment
We practice at the St. James Indoor Ice Rink weekly. Every practice is mandatory and highly recommended if you want to play during the season. We also hold off-ice training sessions.
Dues
Dues will be starting at $25 per semester per person, which covers transportation, lodging, referee fees, and equipment. (Pricing subject to change).
Awards, Recognition, and Championships
In 2023, the club's second year in existence, the Hoyas won the WACCHL Regional Championship in Winston-Salem, NC, where our top forward received the WACCHL Awards of Best Offensive Player and Championship MVP.
Contact Us
Email us at womensicehockeyclub@georgetown.edu
Follow us on Instagram