Club Ice Hockey (Men's)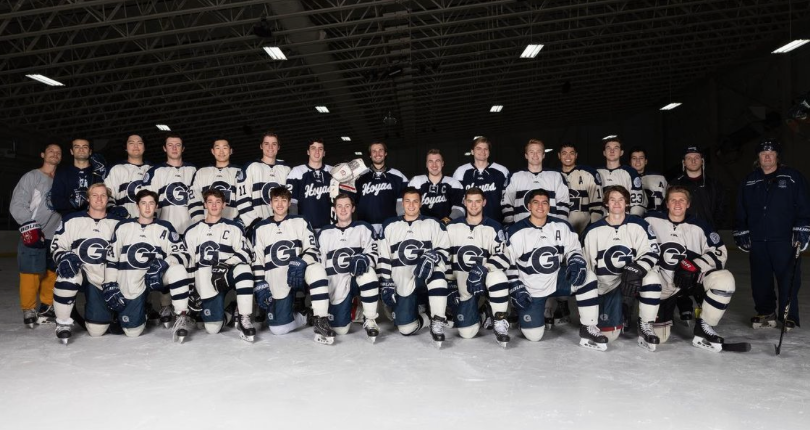 About Us
We are a competitive ice hockey team playing in the Capitol Division of the Atlantic Coast Collegiate Hockey League (ACCHL), and the Division II-Elite Division of the American Collegiate Hockey Association (ACHA). Schools that we play in both conferences are UMD, GW, JMU, UVA, ECU, Navy, Richmond, Princeton, and Saint Joseph's. Our season starts in September and ends in late February, with the league playoffs being played in Winston-Salem, NC.
How to Join
We host an information meeting and Meet 'N' Greet during the first few weekends of the Fall semester. This is followed by a BBQ to meet the current players. We hold tryouts before the season and our tryout dates can be found on both our Instagram and Twitter.
Please fill out the Player Recruitment Form on our website to stay connected.
Time Commitment
We practice weekly at the Cabin John Indoor Ice Rink & the St. James Sports Complex. Every practice is mandatory and highly recommended if you want to play during the season. We also hold off-ice training sessions.
Dues
Dues will be starting at $100 per semester per person, which covers transportation, lodging, referee fees, and equipment. (Pricing subject to change).
Awards, Recognition, and Championships
Georgetown has been a member of the ACCHL since the 2003-2004 season. The Hoyas have enjoyed great success since entering the ACC, winning six league championships– in 2005, 2007, 2008, 2012, 2013, and 2014.
Contact Us
Email us at icehockeyclub@georgetown.edu
Follow us on Twitter and Instagram